Califone® Infrared Wireless Stereo Headphone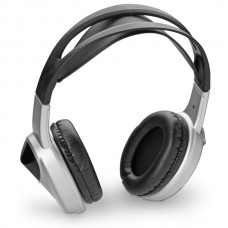 - Capable of receiving an audio signal from the Califone® Wireless Listening Center (Z41473J) or from a computer with a USB transmitter.
- Features adjustable headband comfort strap, ambient noise-reducing earcups, and 20-ft. working range.
- The infrared receivers are built into earcups. Includes power on/off switch, stereo/mono switch, and volume control.
- Requires two "AAA" batteries (included).


| #Item | Product | Qty |
| --- | --- | --- |
| EL10527J | Califone® Infrared Wireless Stereo Headphone : In Stock | |
Also Consider