Califone® Cassette Recorder with CD Player and AM/FM Radio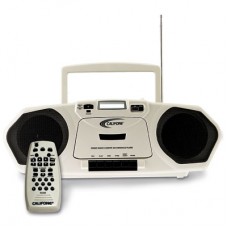 - Top-loading CD player with CD, CD-R, CD-RW, and MP3 playing compatibility
- Full digital controls
- 6 watts amplifier
- CD skip, search, and random
- Headphone and microphone jacks
- Built-in microphone
- CD digital counter and 2X cassette counter
- 20 programmable tracks with LCD display
- Permanently attached AC cord and cord wrap
- AC and battery operation
- Phase locked loop (PLL) digital AM/FM radio
- Separate bass and treble controls
- External speaker jacks
- Recessed speakers behind steel grills prevents accidental damage
- Rugged external casing made with ABS plastic for safety and durability
- Cassette player also records from the CD player
- Includes full-function remote control
- Dimensions: 18-1/4" W x 6-1/2" H x 8-1/2" D
- Remote control included
- One-year warranty.
Shipped directly from factory. Allow extra delivery time.


| #Item | Product | Qty |
| --- | --- | --- |
| Z17528J | Califone® Cassette Recorder with CD Player and AM/FM Radio : In Stock | |
Also Consider