1-2-3, ABC Butterfly Fun Carpet - Oval, 3 ft. 10" x 5 ft. 5"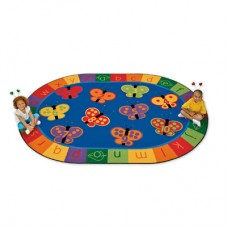 This butterfly carpet will make any learning experience a fun one! Time will flutter by as children learn their numbers 1"10 via butterflies spread out in the middle of the carpet and the alphabet by way of letters running along the carpet's edge. Great for circle time activities or as a comfortable addition to any literacy center. Shipped directly from factory. Allow extra delivery time.

Nasco's Quality Line of Classroom Carpets
- Features the patented KIDply® backing system that virtually eliminates wrinkling and creasing
- Anti-microbial treatment built into backing to guard against odor-causing micro-organisms
- Soft, dense foundation provides insulation and sound protection, while increasing overall comfort
- Double-stitched, serged edges
- Lifetime abrasive wear warranty on face yarn (excludes serged edges)
- Commercial-grade nylon resists fuzzing and pilling
- Includes stain protection
- Printed color carpets meet all national fire code requirements for NFPA250, Class I
- Solid color carpets meet national fire code NFPA101, Life Safety Code, Class II
- Ages 3-8
- Made in the U.S.A.
Please note: When using carpets in a classroom setting or home, double-sided carpet tape or a nonslip carpet mat (not included) must be used on non-carpeted flooring to prevent slippage. Nasco is not responsible for dissatisfaction when these safety precautions are not taken or when carpets are misused in any way.


| #Item | Product | Qty |
| --- | --- | --- |
| Z42387J | 1-2-3, ABC Butterfly Fun Carpet - Oval, 3 ft. 10" x 5 ft. 5" : In Stock | |
Also Consider