Scholastic® Little Red Tool Box Word Family Foam Tiles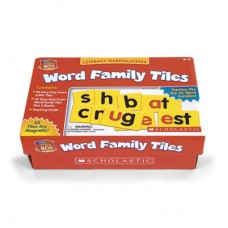 Scholastic's Little Red Tool Box tile set provides a greater focus on phonemic awareness linking to phonics. High-frequency word set builds the next step for vocabulary development and fluency (reading automaticity) of sight words. Supports NCLB and Reading First initiatives!

Help children increase their sight word vocabulary and improve their decoding and spelling skills with word family tiles featuring the top 42 word families!
Set includes:

- 42 word family tiles
- 56 letter tiles
- 4-page teaching guide
Ages 5-8.


| #Item | Product | Qty |
| --- | --- | --- |
| SB41883J | Scholastic® Little Red Tool Box Word Family Foam Tiles : In Stock | |
Also Consider