24® Game - Variables Single/Double Digits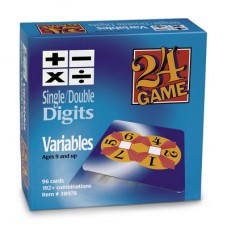 24® will do for digits what Scrabble® did for the alphabet! To win, be the first to combine all four numbers on each card to make 24. To get 24, players can add, subtract, multiply, and divide. Use all four numbers on a card only once.

Pre-algebra problem solving. Find variable number (1-9) that can be combined with three other numbers to make 24. 96 double-sided 4" x 4" cards. Grade 6 and up.

| #Item | Product | Qty |
| --- | --- | --- |
| TB18414T | 24® Game - Variables Single/Double Digits : In Stock | |
Also Consider