Trouble-Free Playground Small Poster Set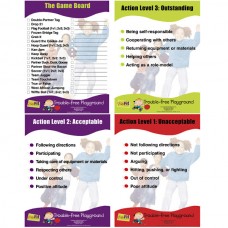 Contains one game board which consists of a list of games for students to play during recess and three action level posters which contains a list of choices the students make in determining their own individual level of behavior. For classroom use. 11" x 17".

Contact Dr. Curt Hinson today, toll free at 1-888-217-9131 or visit www.trouble-freeplayground.com to learn more about having a Trouble-free Playground or K-8 Physical Education G.A.M.E.S. workshop at your school.

| #Item | Product | Qty |
| --- | --- | --- |
| PE04001E | Trouble-Free Playground Small Poster Set : In Stock | |
Also Consider