6 Steps to a Trouble-Free Playground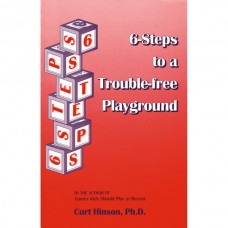 By Curt Hinson, PhD. 8-1/2" x 5-1/2".
Finally, a practical guide for improving recess in America's elementary schools. Written for those who, despite their best efforts, continue to be plagued by fights, arguments, and unmotivated students on the playground. Award-winning teacher and author Curt Hinson shares his straight-forward techniques and strategies to help diminish the daily problems associated with the playground. Dr. Hinson's program is based on teaching children self-responsibility and self-control. It is not filled with radical, earth-shaking measures, but rather easy-to-implement, common-sense steps that have made a difference at school nationwide. Copyright 2001.

| #Item | Product | Qty |
| --- | --- | --- |
| PE03659E | 6 Steps to a Trouble-Free Playground : In Stock | |
Also Consider