Califone® Deluxe Classroom DVD Player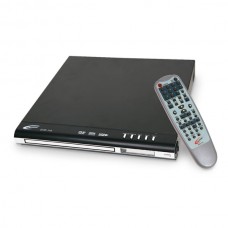 Ideal for individual and small group use in schools, meetings, and presentations, our front-loading DVD player is easy to set up and use. It accepts the most popular formats used today in addition to playing MP3 CDs for audio support. The full-function remote control enables you to move about the classroom and still control the speed of play (1/2 x, 1/3 x, 1/4 x, 1/5 x, 1/6 x, and 1/7 x speeds) for instance or even play files plugged in the USB port on the DVD player.
Features include:
- Open/close, play/pause, stop, previous, and next buttons
- S-video output
- RCA video output
- Coaxial digital audio output
- Component video outputs
- Analog audio outputs
- USB port
Supports DVD/DVD-R/DVD-RW/VCD/CD/CD-R/CD-RW/MP3/MPEG4/JPEG/Kodak Picture CD disks. One-year warranty for school, church, and business users. Shipped directly from factory. Allow extra delivery time.


| #Item | Product | Qty |
| --- | --- | --- |
| Z40571J | Califone® Deluxe Classroom DVD Player : In Stock | |
Also Consider