A to Z Animals Alphabet Carpet - 6 ft. 9" x 9 ft. 5" Oval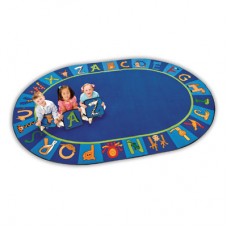 This adorable classroom carpet is perfect for any room. The animals, from alligator to zebra, provide the perfect place for children to sit and learn their alphabet. Combine with A to Z Animals Squares for even more fun. Shipped directly from factory. Allow extra delivery time.

Nasco's Quality Line of Classroom Carpets
- Features the patented KIDply® backing system that virtually eliminates wrinkling and creasing
- Anti-microbial treatment built into backing to guard against odor-causing micro-organisms
- Soft, dense foundation provides insulation and sound protection, while increasing overall comfort
- Double-stitched, serged edges
- Lifetime abrasive wear warranty on face yarn (excludes serged edges)
- Commercial-grade nylon resists fuzzing and pilling
- Includes stain protection
- Printed color carpets meet all national fire code requirements for NFPA250, Class I
- Solid color carpets meet national fire code NFPA101, Life Safety Code, Class II
- Ages 3-8
- Made in U.S.A.
Please note: When using carpets in a classroom setting or home, double-sided carpet tape or a nonslip carpet mat (not included) must be used on non-carpeted flooring to prevent slippage. Nasco is not responsible for dissatisfaction when these safety precautions are not taken or when carpets are misused in any way.


| #Item | Product | Qty |
| --- | --- | --- |
| Z45442J | A to Z Animals Alphabet Carpet - 6 ft. 9" x 9 ft. 5" Oval : In Stock | |
Also Consider