A to Z Animals Alphabet Carpet - Alphabet Squares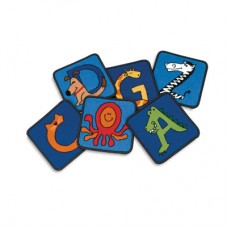 Set of 26, 1-ft. squares. Made in U.S.A. Shipped directly from factory. Allow extra delivery time.
Please note: When using carpets in a classroom setting or home, double-sided carpet tape or a nonslip carpet mat (not included) must be used on non-carpeted flooring to prevent slippage. Nasco is not responsible for dissatisfaction when these safety precautions are not taken or when carpets are misused in any way.


| #Item | Product | Qty |
| --- | --- | --- |
| Z41599J | A to Z Animals Alphabet Carpet - Alphabet Squares : In Stock | |
Also Consider